Nun amtlich: Selbsternannte Faktenchecker sind einfach nur linke Meinungsaktivisten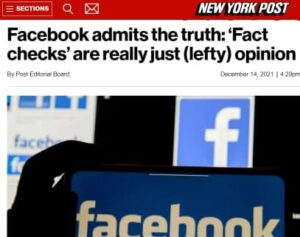 Nun amtlich: Selbsternannte Faktenchecker sind einfach nur linke Meinungsaktivisten
Editorial der NY Post: Es sollte künftig immer und auch immer schon ex ante klar sein, dass jedwede "Faktenchecker"-Aussagen
a) MEINUNGEN sind …
b) … also keine "Faktenbelege" und
c) praktisch immer LINKE Meinungen!
Gerichtsfest ist dies nun für alle Meinungen von "Science Feedback", das ist das US-Äquivalent der notorisch-berüchtigten MEINUNGS(!)-Schleudern der "Faktenchecker" von "Correctiv", die das deutsche Facebook überwachen und zensieren und aus ähnlichen Quellen wie "Science Feedback" finanziert werden. Auf beiden Seiten des Atlantiks also dasselbe: Linksextreme und immer getreu der gerade angesagten Meinung exekutierten Zensurakte werden mit "gottgegebener Faktenwahrheit jenseits der Diskutierbarkeit" scheinbegründet. Wenn man diese göttlichen "Fakten-Checker" aber einmal verklagt, werden urplötzlich aus deren angeblich belegten Fakten "MEINUNGEN", gegen die man gerichtlich dann nicht mehr ankommt. MERKEN WIR UNS DAS!
=>"Gott ist tot.", hätte Nietzsche gesagt. Selbsternannte unfehlbare Faktenhüter sind sterblich, fehlbar und verklagbar.
=> Es ist allerdings schon der Gipfel der Heuchelei und Feigheit, dass sich die Faktenchecker ausgerechnet auf das First Amendment der Verfassung (Meinungsfreiheit, in Deutschland Art 5 GG) berufen, was Facebook und Correctiv hierzulande regelmäßig mit Füßen treten und durch Zensur aktiv bekämpft!
PS: Es hat einen Hauch von feiner Ironie, dass ausgerechnet der Globalist und Gründer der ersten US-Notenbank Alexander Hamilton diese nun offenbar abtrünnige Zeitung "NY Post" schon 1801 gegründet hatte.
**********
Editorial: Facebook admits the truth: 'Fact checks' are really just (lefty) opinion
Facebook finally admitted the truth: The "fact checks" that social media use to police what Americans read and watch are just "opinion."
That's thanks to a lawsuit brought by celebrated journalist John Stossel, which has exposed the left's supposed battle against "misinformation" as a farce.
Stossel posted a pair of videos that touched the third rail of liberal politics — climate change. Neither questioned whether climate change is real, but each talked about other issues, namely forest management and using technology to adapt. Yet the third party that Facebook contracts to review these pieces, Science Feedback, flagged them as "false," or our favorite, "lacking context."
Why? Science Feedback didn't like Stossel's "tone." That is, you can't write anything about climate change unless you say it's the worst disaster in the history of humanity and we must spend trillions to fight it. For this, Facebook bans or minimizes Stossel's reporting, depriving him of readers and revenue.
Then, when sued, Facebook throws up its hands and says "not our problem!" His real beef is with Science Feedback, you see; we wash our hands of it.
As for that "fact check" label we slapped on your piece? In Facebook's response to Stossel, it argues, well, that's protected opinion under the First Amendment [Right of Free Speech].
… The fact-check industry is funded by liberal moguls such as George Soros, government-funded nonprofits and the tech giants themselves. The checkers are not the unbiased arbiters of truth; they are useful distractions, groups Facebook can use to absolve itself of responsibility. Free speech be damned.